Keynote Speaker of ICCSM 2024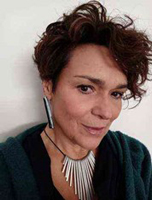 Prof. Maria Beatrice Ligorio
University of Bari, Italy
Professor M. Beatrice Ligoria teaches Educational Psychology and a specialized course on E-learning. She a co-founder of the Collaborative Knowledge Building Group (www.ckbg.org) and is the main editor of the journal Qwerty. She is currently member of the Executive Committee of the Italian Association of Psychology (AIP) for the section of Developmental and Educational Psychology. She has been a member of EARLI and the ISCAR Executive Committee. She has been nominated by the Minister of Education, Instruction and University as a member for the National Scientific Qualification. Her research interests lie in the areas of educational technology, innovation in education, communities, identity, learning organization, intersubjectivity, blended and mobile learning, dialogical approach, virtual environments, sustainable learning, knowledge building, social networks and web-forum in education.
Speech Title: Trialogical Approach: How to Enhance Technology in the Post-pandemic Scenarios
Technology as a mean to support education is not a news. Many specific research traditions have been already developed during "unsuspecting times". Now, during the post-pandemic scenario questions such as "Would we keep using technology in education?", "Under what conditions?" reveal that the real problem is not using or not technology. The problematic point is having a psycho-pedagogical frame of reference that allows you to exploit the potential of technologies and, at the same time, capable to respond to current educational needs.
In my presentation I will illustrate the so-called Trialogical approach as a theoretical proposal capable of giving substance and concreteness to the use of technologies, as they become aimed at the construction of concrete, useful, challenging and motivated objects, destined for contexts other than those in which they are produced. This allows the educational / training context to interact with other contexts, enhancing the blended dimension, therefore without giving up the interaction in presence. The presentation will be accompanied by an illustration of cases in which the trialogic approach has been implemented. The cases span different school levels, from primary school to university.