Keynote Speaker of ICCSM 2023
Prof. Hao Ying, IEEE Fellow
Wayne State University, USA
Dr. Hao Ying is a professor at the Department of Electrical and Computer Engineering, Wayne State University, USA. He has published two fuzzy control books, 130 journal papers, and over 160 conference papers. He receives the 2023 IEEE CIS Fuzzy Systems Pioneer Award, the highest level honor of the Computation al Intelligence Society, with the citation "For fundamental contributions to model-free fuzzy control theory and its biomedical applications."
Professor Ying is serving as an Associate Editor or a Member of Editorial Board for 15 international journals, including the IEEE Transactions on Fuzzy Systems and the IEEE Transactions on Systems, Man, and Cybernetics: Systems. He has served as a Program/Technical Committee Member for over 140 international conferences. He is an IEEE Fellow.
Speech Title: Supervised Learning Fuzzy Discrete Event Systems
To effectively represent deterministic uncertainties and vagueness as well as human subjective observation and judgment encountered in many real-world problems especially those in medicine, we originated a theory of fuzzy discrete event systems (DES) in 2001. The theory is unique in that it is capable of modeling a class of event-driven systems as fuzzy automata with states and event-invoked state transitions being ambiguous. We introduced fuzzy states and fuzzy event transition and generalized conventional crisp DES to fuzzy DES. The largely graph-based framework of the crisp DES was unsuitable for the expansion and we thus reformulated it using state vectors and event transition matrices which could be extended to fuzzy vectors and matrices by allowing their elements to take values in [0, 1]. We also extended optimal control of DES to fuzzy DES. This novel fuzzy DES theory is consistent with the traditional DES theory, both at conceptual and computation levels, in that the former contains the latter as a special case when the membership grades are either 0 or 1. Other researchers have extended the FDES framework afterward. They studied a variety of fundamental FDES-related issues. These include supervisory control, observability, decentralized control, diagnosability, online control, state-based control, state-feedback control, prognosis, predictability, opacity, and detectabilities.
In this presentation, we show how a FDES can learn its event transition matrix, which is the core of the FDES, when neither pre-event nor post-event state is known. The only information assumes to be available is values of the variables and they are only known to be vaguely related to the pre- and post-event states. We link the variables to the states through Gaussian fuzzy sets owing to the conceptual relationship between a fuzzy set and a fuzzy state. The resulting innovative model is called the Fuzzy Automaton with Input and Output Fuzzy Sets (FAIOFS). Stochastic-gradient-descent-based algorithms are derived for the model to iteratively learn online the transition matrix and all the parameters of the fuzzy sets simultaneously. Another significant extension is that unlike our previous learning models, the new model is capable of determining an individual post-event state even if it is associated with two or more variables, expanding model's utility. FAIOFS is the first fuzzy discrete event system model that is capable of learning solely based on sensor data without relying on any subjective input from humans, removing a significant bottleneck for real-world applications. Computer simulation results are furnished to exhibit learning performance of this new model.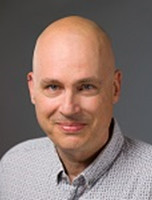 Prof. Olivier Rioul
Télécom Paris, Institut Polytechnique de Paris, France
Olivier Rioul (https://perso.telecom-paristech.fr/rioul/) is full Professor at the Department of Communication and Electronics at Télécom Paris, Institut Polytechnique de Paris, France. He graduated from École Polytechnique and from École Nationale Supérieure des Télécommunications, Paris, France, where he obtained his PhD degree. His research interests are in applied mathematics and include various, sometimes unconventional, applications of information theory such as inequalities in statistics, hardware security, and experimental psychology. He has been teaching information theory and statistics at various universities for twenty years and has published a textbook which has become a classical French reference in the field.
Speech Title: Information Theory as a Unified Tool for Understanding and Designing Human-Computer Interaction
Information theory, particularly in a Bayesian context, has recently regained interest as a unified tool to understand and design human-computer communication and interaction. Like in everyday life, by continuously making predictions using previous experiences, the human-computer interaction should somehow aim at reducing the level of uncertainty (entropy), reinforcing true predictions and correcting wrong ones, via some feedback interaction loop. Taking the stance that human-computer interaction can be considered as a communication process, where uncertainty and information are described using information-theoretic terms, we can design interaction in such a way to optimize decisions under uncertainty.
In my presentation I will illustrate these concepts in the context of a Bayesian experimental design using an expected utility function, where the computer can "runs experiments" on the user by sending feedback that maximizes the expected gain of information by the computer, and exploits the users' subsequent input to update its knowledge as interaction progresses. Applications to Fitts' law, fast file retrieval and multiscale navigation are given to illustrate the concepts.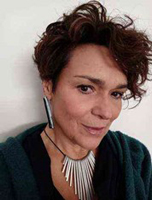 Prof. Maria Beatrice Ligorio
University of Bari, Italy
Professor M. Beatrice Ligoria teaches Educational Psychology and a specialized course on E-learning. She a co-founder of the Collaborative Knowledge Building Group (www.ckbg.org) and is the main editor of the journal Qwerty. She is currently member of the Executive Committee of the Italian Association of Psychology (AIP) for the section of Developmental and Educational Psychology. She has been a member of EARLI and the ISCAR Executive Committee. She has been nominated by the Minister of Education, Instruction and University as a member for the National Scientific Qualification. Her research interests lie in the areas of educational technology, innovation in education, communities, identity, learning organization, intersubjectivity, blended and mobile learning, dialogical approach, virtual environments, sustainable learning, knowledge building, social networks and web-forum in education.
Speech Title: Trialogical Approach: How to Enhance Technology in the Post-pandemic Scenarios
Technology as a mean to support education is not a news. Many specific research traditions have been already developed during "unsuspecting times". Now, during the post-pandemic scenario questions such as "Would we keep using technology in education?", "Under what conditions?" reveal that the real problem is not using or not technology. The problematic point is having a psycho-pedagogical frame of reference that allows you to exploit the potential of technologies and, at the same time, capable to respond to current educational needs.
In my presentation I will illustrate the so-called Trialogical approach as a theoretical proposal capable of giving substance and concreteness to the use of technologies, as they become aimed at the construction of concrete, useful, challenging and motivated objects, destined for contexts other than those in which they are produced. This allows the educational / training context to interact with other contexts, enhancing the blended dimension, therefore without giving up the interaction in presence. The presentation will be accompanied by an illustration of cases in which the trialogic approach has been implemented. The cases span different school levels, from primary school to university.

Prof. Juan Carlos Olabe
Christian Brothers University, USA
Dr. Olabe and his research group are active participants in the field of learning and teaching technologies applied to online education, including the following areas: a) the design of multimedia content for primary, secondary and college level courses; b) the development of pedagogical methodologies for new digital learning environments; c) the creation and use of technological-based tools applied to teaching and learning; d) the implementation of resources for active pedagogical methodologies; and e) the delivery of Master's, Bachelor's courses and degrees using learning platforms. During the last two decades, Dr. Olabe and his research group have received the support of the European Union and the National Council for Science and Technology of Latin-American through the funding of a large number of research and development projects. Dr. Olabe has published several books and multiple articles in international journals, and has collaborated with international journals and committees. He has established working relationships with members of the MIT Lifelong Kindergarten group and with members of the One Laptop per Child project (OLCP) in the US and in multiple countries of Latin America. He has established relationships with governmental educational groups of the Ministries of Education of Peru, the Dominican Republic, and Colombia, as well as the educational networks RENATA of Colombia and CONACyT of Paraguay, and research groups at the University of Alicante, University of Extremadura, University of Salamanca, Luisíada University of Portugal, University of Silesia and LaSalle Bajío University (Mexico).
Speech Title: Harnessing AI in Higher Education: A Deep Dive into GPT-4
The advent of Artificial Intelligence (AI) has announced a new age of opportunity and innovation in higher education. In this keynote address, Dr. Olabe will explore the role of AI, and more specifically, GPT-4 in transforming the educational landscape.
As the backdrop for this discussion, he will use the case study of a unique course on climate change, utilizing Python programming and AI for analyzing climate data. In the course, GPT-4 serves a multifaceted role - from crafting lesson plans and explaining programming concepts, to stimulating discussions, providing code feedback, and even managing group projects. It demonstrates the vast potential of AI in facilitating enhanced learning experiences, and more immersive and interactive education. He will discuss how GPT-4, with its capacity for natural language understanding and generation, fosters student learning by debugging, comprehending algorithmic logic, and problem-solving, thereby enhancing their critical thinking and computational skills. This talk describes the important intersection of AI and education, and explores the transformative potential it holds for the future.